March 24, 2010 by admin · Leave a Comment
This is a great way to dye your Easter eggs this year (by the way, Easter is in 18 days!) for whatever reason matters the most to you: it's a fun science experiment, you stay away from commercial dyes, it is cheap AND its just something new and different!
All Natural Easter Egg Dyeing
Colors
1. To make a beautiful light blue dyed Easter egg, simply take 3/4 of a head of red cabbage, chop it and put it in a large pot. Add 2 T. of white vinegar, add the eggs and fill pot with water.
2. To make a green, add 2 cups of spinach (or a box of frozen spinach) to a pot. Add 2 T. of white vinegar, add the eggs and fill pot with water.
3. To make a red (and a hot pink for some of the eggs!), add 3 cups of cranberry juice and 3 chopped beets in a pot. Add 2 T. of white vinegar, add the eggs and fill pot with water.
4. To make a yellow, add 2 teaspoons of turmeric to your pot. Add 2 T. of white vinegar, add the eggs and fill pot with water.
5. I forgot to do this one BUT you can use chili powder (just like I used the turmeric above) to make a fun red/orange color.
Dyeing
1. Bring your mixture to a boil then reduce heat so it is simmering for 30 minutes. Don't let it boil too long or the eggs will crack!
2. Let the eggs sit in the mixture for a couple of hours.  Be sure to stir them around a few times so the color soaks in on all sides of the egg.
Note: In this pictures it looks like I combined mixtures. I did not. I was just trying out a weird color. So please boil and simmer all of your mixtures SEPERATE.
Check out our beautiful eggs! Don't they look so rustic and natural? This was a lot of fun to do. The girls loved guessing what colors the vegetables or spices would turn the eggs and then waiting to see if they were right!
Another fun part of this "experiment" was that every single egg turned out a different shade (we did use brown and white eggs) and I just think they are beautiful.
But what to do with the veggies? Throw them in the compost pile! Your garden will be extra happy this year.
September 23, 2009 by admin · Leave a Comment
My first harvesting experience I can remember was getting permission from the librarian to climb the huge apple tree in front of the library to collect apples for pies, applesauce and juice.
Fall is the perfect time to do this with all of the city fall harvest and festivals, farms and barnyards opening their doors to customers, farmer's markets, etc. It is always important to take the time to teach and explain to your children the source of their food.
Grape Harvesting in Our Backyard

Apple, Peach, Pear, Plum, Cantaloupe, Eggplant Harvesting at Our Neighborhood Farm

Here are some great resources:
Kids Farm is a website following the Harvesting on a farm in Colorado. Your kids can click on different produce to see where it comes from!
Local Harvest is a great place to point you in the right direction
September 7, 2009 by admin · Leave a Comment
I am thrilled that Angelina from The Little Travelers is our Guest Writer today.
Over the years, I've been very fortunate to have had the opportunity to travel a bit and learn from many great teachers around the world. My intention for my blog is to share what I've learned in the realm of parenting and raising children. I hope that what you find here has a meaningful impact on you and your families as it's had on mine.
Learning about the world through food
One of my favorite ways to explore other cultures is through their food. If started when your children are young enough they will gladly join you in the journey. Remember, children eat what they're used to eating. Indian children eat curry, Thai children eat Pad Thai and German children eat Schnitzel. If you only offer your children chicken fingers and carrots with ranch dressing, they will likely turn their noses up to Persian stew. So start young and really stretch their pallets while they are malleable.
This year, we have decided to cook a meal from a different country once a week and go for no repeats the entire year. So by the end of the year we will have eaten 52 meals from 52 countries. We are also coloring in a map each week to keep track of what we've made and posting pictures to our website in hopes that other families will join us on our journey, tell us what recipes they've enjoyed, and share them with us.
The best way to include children in cooking is by having them help cook. Rather than keeping your children busy while you cook, either pull up a sturdy chair, use a Learning Tower, or set up a small table where they can sit and give them real jobs to help with the prep. Yes, it takes longer when they 'help' but it is really worth it in the long run. Give them their own cutting board and if they're very young a butter knife to cut with.
I also offer this tip to those of you with small children at home. This one small thing saved my sanity when my girls were little. At the time my husband traveled half the year, so I pulled duty as a single mother even when I was married. I was a stay at home mom who often did my outings in the mornings. The girls would nap in the afternoon and then we'd play at home, and I'd
try
to start dinner around 5.  It was rough! They wanted to be held or they fussed or fought with each other. And then someone told me this tip. Just before getting ready to start dinner go for a walk outside. No matter the weather, take at least 10 minutes to walk outside- around the block or up and down the street. Then come in and start dinner. Such a simple thing made such a huge difference. They were in a totally different place and were eager to do a focused indoor task again after being outside for a while.
Also, a big tip for those with very young children is to sing while cooking. Here's my favorite veggie cutting song: "
Chipitty chop, chippety chop. Cut off the bottom and we cut off the top. What we have left we throw in the pot. Chippety chop. Chippety chop."
It can seem silly to the adult but you'd be amazed at how much it helps children relax into what they're doing and keep focused at the same time. Definitely have the TV in the off position and don't stress about the mess. If the child spills, assist in cleaning it up. While the meal cooks, clean up the prep area together and then set the table together. Lighting a candle at mealtime also makes a HUGE difference to children in the enjoyment of the meal and eagerness to participate in the process.
September 4, 2009 by admin · 1 Comment
Aside from a side dish at dinner, it hasn't been easy for me to get my daughters to eat their vegetables. After a few failures and a little frustration I have finally found a few things that seem to work. I can rest easy knowing my daughters are eating their veggies–whether they know it or not!
Breakfast
Carrot Juice. Yes, carrot juice! Start your child on carrot juice when she is young. It is a fantastically nutritious juice and they will learn to love the taste. I started buying Bolthouse Farm's 3-pack of 100% Carrot Juice at my local warehouse store as soon as my daughter began drinking cow's milk. Since then she's learned it's breakfast drink.
Carrot juice is naturally rich in powerful antioxidants including Vitamin C and Vitamin A from alpha-carotene and beta-carotene. It is also a natural source of potassium and is fat and cholesterol free. My trick is to mix it with pomegranate juice, which gives it a fun color and a little bit of sweetness.
Fritters are another item I incorporate into breakfast to ensure we eat enough vegetables. I grate zucchini and other vegetables and mix them with an egg and a cup of pancake mix. I form them into patties and cook them in extra virgin olive oil.
Lunch
Roasted and pureed butternut squash frozen into ice cubes is something I always keep on hand. I mix sliced or shredded cheese, cracked pepper and two thawed cubes of squash together and grill it on some multi-grain bread like just like a grilled cheese! I don't think my kids even know what a regular grilled cheese sandwich tastes like!
"Pasta" spaghetti squash is a weekly meal in my home and which we eat as leftovers the next day for lunch. Spaghetti squash is so yummy; you have to give it a try! I cut it in half, season it with olive oil, salt and pepper, cover it with foil and roast it on high for an hour in the oven. Take it out and start pulling on the flesh with your fork and it turns into "pasta!" I saute some bell pepper, onion and whatever other veggies I have on hand and throw it in with the squash. To make it extra tasty you can add a tiny bit of freshly grated parmesan cheese.
I am still in need of new ideas for squeezing veggies into my daughter's meals other than the normal sliced and diced raw veggies. Those mini peeled carrots are great, but it's nice to change it up once in a while. Any suggestions?
Butternut squash photo by romanlily, shared via Flickr.
August 17, 2009 by admin · Leave a Comment
We love to cook together as a family; it is a wonderful way to have fun and spend quality time together. Cooking with your children has numerous benefits: it teaches your children mathematics; gives your child a sense of pride and accomplishment; helps your children try new things; entices them to eat what they help make. In our home we have a silly tradition of "dolling" ourselves up for cooking together. We wear fun, bright aprons, put on our favorite lip gloss and dance around to our favorite music.
We have been using Alter Eco Fair Trade products in our cooking for well over a year. I have been more than impressed with their website, fast shipping, wonderful packaging and quality ingredients. It has also added a new dimension into our cooking because we can teach our children the importance of fair trade products.
Fair trade is an organized social movement and market-based approach to empowering developing country producers and promoting sustainability. The movement advocates the payment of a fair price as well as social and environmental standards in areas related to the production of a wide variety of goods. This supports a better life for families through fair prices, direct trade, community development and environmental stewardship. In their products chemical fertilizers and pesticides have been replaced with organic fertilizers and natural plant extracts to produce their products.
Kind of makes you wonder why more people don't cook with fair-trade products, doesn't it?
July 29, 2009 by admin · 5 Comments
For almost two years we've been eating vegetarian or vegan twice a week and seafood twice a week. I guess you could consider us part-time vegetarians. Eating this way keeps us from overloading our diets with too much meat or dairy and cuts down on our grocery bill. It forces us to eat more fresh produce and to shop locally so the produce actually has flavor.
It is extremely eco-friendly to eat vegetarian twice a week; eating meat takes a toll on the environment big time. The beef, poultry and pork industrial farms notoriously contribute to water pollution, use large amounts of fossil fuels and generate prodigious amounts of greenhouse gases. The United Nations has actually issued a call for citizens of the world to go vegetarian one day a week to curb global warming.
My girls love fresh veggies and fruit on their own, but I also like to puree it and add it to other meals. I'm not trying to hide it but it's another great way to add more essential vitamins to their diet. When my girls were babies I made their baby food and always used organic ingredients. Their teeth came in quickly and they moved onto solids sooner than later, so both times I ended up with extra bags of frozen cubed baby food. I started adding the pureed butternut squash into their grilled cheese for lunch and whole grain pancakes for breakfast. During that time two cookbooks were released dedicated to adding pureed fruits and veggies to favorite recipes!
We've slowly been going more with our meals every month to the point that I can honestly say more than 75% of our meals are completely organic. A big turning point for me in making this decision was something Sara Snow wrote in her Fresh Living book. The importance of "factoring in the kids when deciding to go organic" reaffirmed my decision. Sara puts it in such great way:
All of this becomes particularly important when you recognize that kids eat, per pound of body weight, more food than adults every day. Plus their variety is limited. So when a child eats a food that contains residues, the dose they receive is much higher than the dose you or I might get from the same food. Couple that with the fact that children's bodies don't have the ability to metabolize chemicals as quickly or as completely as adults do, so the chemicals remain in kids longer, posing greater risks.
It has been a learning experience to teach myself to cook this way but it has been worth the work. These wonderful cookbooks have served as manuals to me and I highly recommend them to everyone!
In Season: Cooking with Vegetable and Fruits
The River Cottage Family Cookbook by Huge Fearnley-Whittingstall & Fizz Carr might be one of our favorite cookbooks. The book itself is a work of art–everything about it is beautiful. They take the time to explain in plain terms why to prepare your food a certain way, why you should make the choice to go organic…there was a lot of love put into this book and you can tell.
The PDQ (Pretty Darn Quick) Vegetarian Cookbook: 24
Slice of Organic Life by Alice Waters & Sheherazade Goldsmith goes over everything from growing your own food organically, cooking home-grown produce, keeping selected livestock and leading a more sustainable lifestyle.
But most importantly, above all, you must have a cute apron to cook in which is why I give you…Cottage Road Designs and a link to her gorgeous aprons.
July 27, 2009 by admin · 15 Comments
I'm adding this recipe to our breakfast rotation–it sounds so yummy!
Banana-Oat Smoothie from the Every Day Food magazine
In a blender combine:
1/4 cup old fashioned rolled oats
1/2 cup plain lowfat yogurt
1 banana cut into thirds
1/2 cup fat-free milk
2 teaspoons honey
1/2 teaspoon ground cinnamon
Serve immediately. Mmmm, mmmm good!
July 15, 2009 by admin · 3 Comments
Organic popsicles…yes, I said it…that are bright colors, easy to make and full of ooey, gooey yumminess!
Ready for the super specific recipe? Here goes!
…
5 or 6 or so frozen organic berries, any kind
1/2 cup to 1 cup or so of organic plain yogurt
1/4 cup to 1/2 cup of organic carrot juice
Mix together in large bowl.
Pour into rocket ship popsicle molds (that you can buy here)
Here's the thing, today they also had a huge cupcake and we visit McDonald's more than I care to admit but I LOVE that most of the time they will eat treats like these. I say everything in moderation! Sometimes I have time to make organic, healthy popsicles and other days they get Otter Pops that have been in the back of the freezer way too long, but I love that they enjoy BOTH and it is quite fun pretending to be chefs with these two little gals.
June 29, 2009 by admin · 2 Comments
I have to preface this by saying this is a healthy pizza that preschoolers can make! I made Fruit Pizzas for a wedding once that were beautiful, full of tons of sugar and a lot more complex. THIS is definitely not that recipe but my girls thought it was pretty darn good
They were also very proud of themselves for doing it all on their own.
Ingredients
Whole Grain Pitas
Organic Yogurt
Fresh Cut Fruit
Nuts
Directions
June 24, 2009 by admin · Leave a Comment
Fish Tacos is one of our favorite family dishes although it has taken quite a while to find the "perfect" recipe but I think we have done it! We mixed a couple recipes together with our own take on the perfect topping….thanks to Guy and Bobby on Food Network for sending us in the right direction!
PART 1: Fish
Ingredients:
1 lime, juiced
3 tablespoons olive oil
1 teaspoon cumin
1 teaspoon salt
1 teaspoon black pepper
12 ounces of Dover or Tilapia
16 (8-inch) corn or flour tortillas
Canola oil
4 ounces tempura flour
8 ounces prepared tempura batter made with cold water
6 ounces panko bread crumbs
Directions:
In medium bowl combine lime juice, olive oil, cumin, salt, and pepper; mix thoroughly. Add the fish and toss to coat. Marinate for 10 minutes.
Warm tortillas on grill or pan. Cover with a towel to keep warm.
In a medium Dutch oven, heat the canola oil to 350 degrees F.

…
Remove fish from marinade, shake off excess, dredge in tempura flour, and dunk in cold tempura mixed batter. Roll in panko bread crumbs, pressing panko onto fish. One by one add fish to oil, making sure to keep the fish pieces separated. Fry for 4 to 5 minutes, or until light golden brown. Remove and drain on paper towels.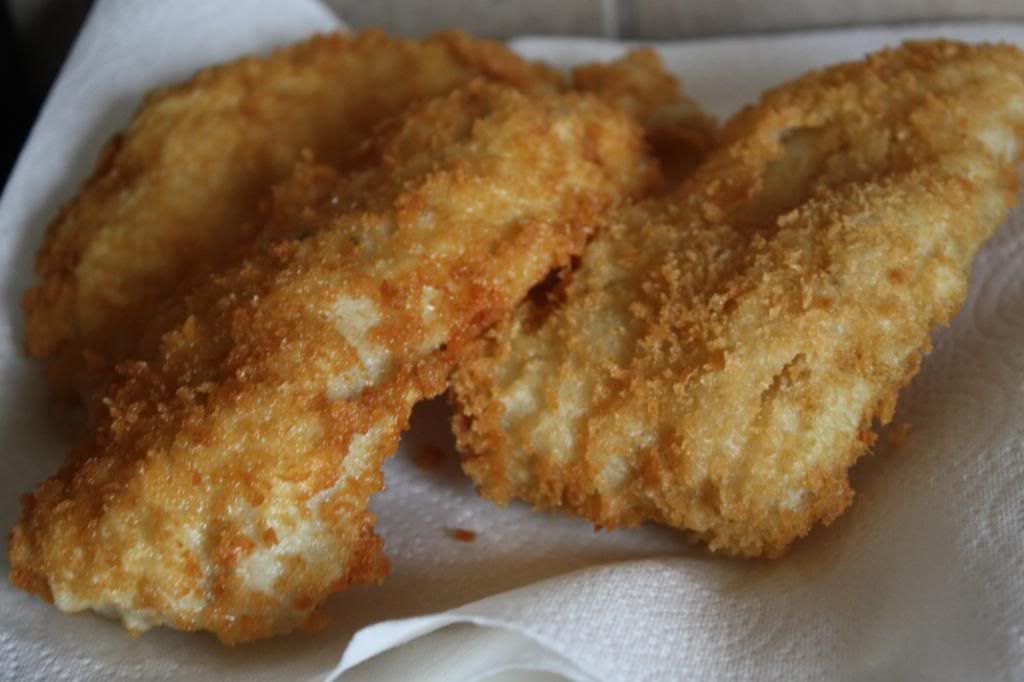 PART 2: Sauce
Ingredients:
2 tablespoon olive oil
1 small red onion, coarsely chopped
4 cloves garlic, coarsely chopped
4 large ripe tomatoes, chopped
1 jalapeno, sliced
1 tablespoon chipotle hot sauce
1 chopped yellow bell pepper
1/4 cup chopped fresh cilantro leaves
Salt and pepper
Directions:
…
Preheat grill or use side burners of the grill. Heat oil in medium saucepan, add onions, bell pepper and garlic and cook until soft. Add tomatoes and jalapeno and cook until tomatoes are soft, about 15 to 20 minutes. Puree the mixture in the blender and add the hot sauce, oregano, cilantro and lime juice and season with salt and pepper, to taste.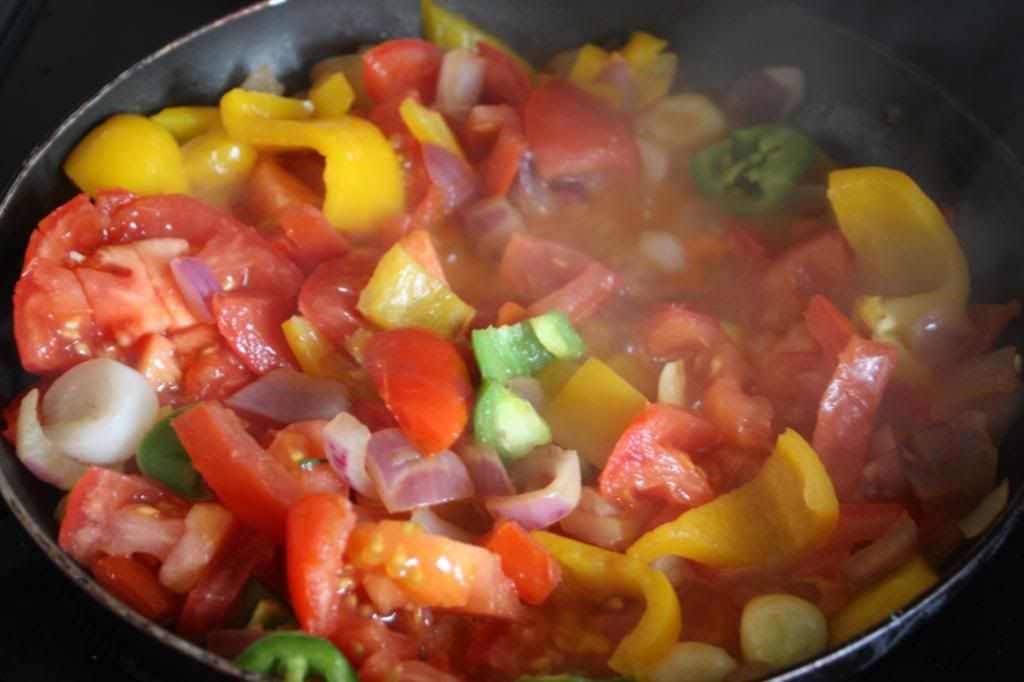 Toppings:
-Crisp shredded lettuce (not in picture)
-Dollop of cold sour cream