September 25, 2009 by admin · Comments Off on Special Spot in Nature
Find your spot in nature.
Help your kids find their special spot.
Make sure you spend time there daily if you can.
Fall is the perfect time to read outside, draw outside, and relax outside.
This was my place for quite awhile:
What is yours? I would love to see a picture!
Make sure your children know they can think, create, and relax in nature.
Have family drawing time out in nature, eat your family meals outside together, or just read books outside together!
August 28, 2009 by admin · Comments Off on Kiwi Magazine
Kiwi magazine is my one of my favorite parenting magazines, and here's why:
"KIWI is dedicated to helping parents raise their children the healthiest way possible. Our charge is to introduce families to the latest in natural and organic living—showing how to practice this lifestyle on an everyday basis.We know that achieving the right balance between the real world and the ideal world is often difficult. Our lives are busy and our family's schedules are often simply out of our control. So, our mission is to help you make the best choices, with the best information available, in the shortest amount of time.
 
Look for articles in KIWI on serving the safest and most nutritious foods along with the latest in family wellness—what's good for your family and what's not. Our environmental emphasis will help moms and dads raise children with an eye to the future of their planet. We'll bring to light important social issues that affect our families. And, we'll help to guide our readers in teaching their kids to care about people in their neighborhood, their country and the world. In short, we hope to inspire parents to achieve new heights in family growth without missing a beat."
August 21, 2009 by admin · Comments Off on Listen
I have a simple to-do list for you to accomplish today with your children:

Image from www.realtater.com
To Do:
Ignore your other to-do lists for a bit
Go outside
Be still
Listen
Listen to the wind, birds, crickets, rain
Listen to the sounds of summer
Be still
Listen
Relax
August 7, 2009 by admin · 8 Comments
While reading Last Child in the Woods by Richard Louv I decided to start "Nature Days" and invite others to come along. Some of my fondest memories growing up were unstructured "play times" in nature.
When I need to calm down, take a breath or need to get out of a "funk" I find myself thinking of times spent in nature as a child. These events included exploring the woods behind our home in Maryland, walking along the Chesapeake Bay, exploring the tide pools in Maine, hiking the mountains in Utah and impromptu excursions on the side of the road to play in fields of wildflowers. I hope I can teach my children the strength they can take from nature, to allow them to be able to have their own memories involving the outdoors and learn how beautiful everything around them really is.
The Nature Days we host with the local community are quite simple and low key. We meet together to explore nature without set activities; we just let the kids play and explore nature. It is a wonderful monthly experience for the children in my local community. Recent studies show that children are smarter, more cooperative, happier and healthier when they have frequent opportunities for free and unstructured play in nature. It gives them the chance to explore, dream, pretend, experiment and come to their own conclusions all at their own pace.
Start a Nature Days with your friends in your community! It will be a great opportunity to let your children enjoy nature along with other children. No playground, no toys, no itinerary. You can meet from anywhere to a fishing hole to a dry patch of desert.
August 3, 2009 by admin · 20 Comments
Breathtaking! It reminds me how lucky I am to live on this beautiful Earth.
July 31, 2009 by admin · 2 Comments
Five Senses Competition
Have a tally card for each member of the family to keep score during this competition. The family member with the highest points wins! If you were at my house and you won you would get to pick what is for dessert that night!
Touch: Blindfold each player and have them touch different substances in bowls that are covered with cloth (that way the other players can't see). You can put anything in the bowls from flour to lunch meat!
Hearing: Blindfold each player and have them try to identify different common noises. You can have these prerecorded or do them as you go. You can do anything from crumpled newspaper to a baby blowing raspberries.
Sight: Have a tray full of different items. Let everyone look at them for 30 seconds and then take the tray away. Have them write down as many items as they can remember.
Smelling: Blindfold each player and have them sniff different bottles full of substances. You could fill the bottles with vinegar, lemonade or chocolate milk!
Taste: Blindfold each player and have them taste a wide range of foods. Don't get too Fear Factor with your family during this one!
Quick Version of this Game: Name an object you see while driving, for example, a tree, a cow, a tire, etc. Have your child describe it using the 5 senses: what does the object look like, does it make a sound, what would it taste like, etc. This is a perfect quick game to play during a long car ride or when stuck in line at the store.
July 13, 2009 by admin · 92 Comments
I really enjoy doing yoga with my girls. We each have our own Lotuspad yoga mat and a great children's yoga DVD.
…
This is something I have felt a strong need to start with my soon to be three year old, she can be extremely anxious at times and I know this will help her.
…

Yoga can be a fantastic family activity, a wonderful thing to do for playtime and a good example of the importance of exercise to your children.
The following list of the benefits of yoga are from White Mountain Yoga.

Stronger Bodies
Build developing strength and natural flexibility to minimize injury
Improve body awareness and coordination
Experience the joy of movement free from competition
Improve breathing safely
Focused Minds
Instill a healthy well-developed self-esteem
Cultivate mental concentration and attention
Reduce stress and learn problem-solving skills
Encourages feeling good as chemistry of the brain is balanced
Peaceful Spirits
Encourage creative expression and imagination
Enhance body image and self-acceptance
July 6, 2009 by admin · 1 Comment
"Teaching children about the natural world should be treated as one of the most important events in their lives."
~ Thomas Berry
…
Catching Butterflies on a Hot Day, no explanation needed.
…


…
I do have to add the neighbors got a good laugh watching us run around like crazy trying to catch butterflies!
"As a child, one has that magical capacity to move among the many eras of the earth; to see the land as an animal does; to experience the sky from the perspective of a flower or a bee; to feel the earth quiver and breathe beneath us; to know a hundred different smells of mud and listen unselfconsciously to the soughing of the trees."
~ Valerie Andrews, A Passion for this Earth
June 24, 2009 by admin · Comments Off on Perfect Fish Tacos…Finally
Fish Tacos is one of our favorite family dishes although it has taken quite a while to find the "perfect" recipe but I think we have done it! We mixed a couple recipes together with our own take on the perfect topping….thanks to Guy and Bobby on Food Network for sending us in the right direction!
PART 1: Fish
Ingredients:
1 lime, juiced
3 tablespoons olive oil
1 teaspoon cumin
1 teaspoon salt
1 teaspoon black pepper
12 ounces of Dover or Tilapia
16 (8-inch) corn or flour tortillas
Canola oil
4 ounces tempura flour
8 ounces prepared tempura batter made with cold water
6 ounces panko bread crumbs
Directions:
In medium bowl combine lime juice, olive oil, cumin, salt, and pepper; mix thoroughly. Add the fish and toss to coat. Marinate for 10 minutes.
Warm tortillas on grill or pan. Cover with a towel to keep warm.
In a medium Dutch oven, heat the canola oil to 350 degrees F.

…
Remove fish from marinade, shake off excess, dredge in tempura flour, and dunk in cold tempura mixed batter. Roll in panko bread crumbs, pressing panko onto fish. One by one add fish to oil, making sure to keep the fish pieces separated. Fry for 4 to 5 minutes, or until light golden brown. Remove and drain on paper towels.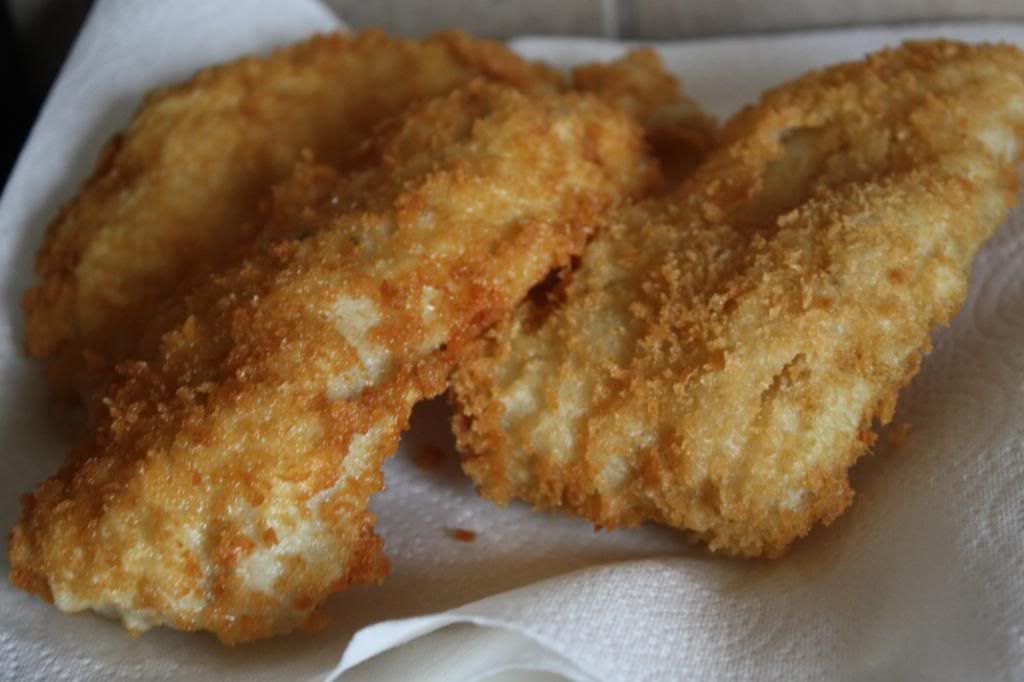 PART 2: Sauce
Ingredients:
2 tablespoon olive oil
1 small red onion, coarsely chopped
4 cloves garlic, coarsely chopped
4 large ripe tomatoes, chopped
1 jalapeno, sliced
1 tablespoon chipotle hot sauce
1 chopped yellow bell pepper
1/4 cup chopped fresh cilantro leaves
Salt and pepper
Directions:
…
Preheat grill or use side burners of the grill. Heat oil in medium saucepan, add onions, bell pepper and garlic and cook until soft. Add tomatoes and jalapeno and cook until tomatoes are soft, about 15 to 20 minutes. Puree the mixture in the blender and add the hot sauce, oregano, cilantro and lime juice and season with salt and pepper, to taste.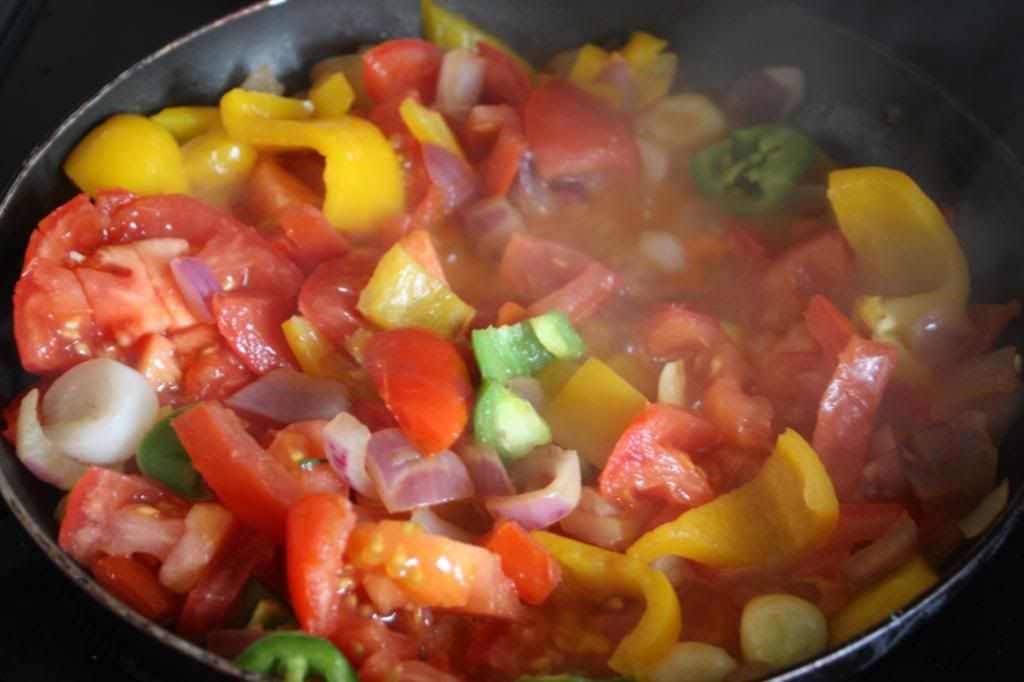 Toppings:
-Crisp shredded lettuce (not in picture)
-Dollop of cold sour cream
June 15, 2009 by admin · 1 Comment
I try not to re-post too often but I wanted to feature these great tips my sister Rebecca posted a few months ago. We are going to take a trip to the art museum soon and I needed a review!
Getting the Most Out of Your Art Museum Trips
The old motto "Be Prepared" is the best advice for taking your kids to art galleries and museums. Everyone always appreciates a work of art better if they know something about it. Before you go to a museum or art gallery, get on their website and see what kind of art they have. Educate yourself about one or two pieces so that you can tell your kids something interesting about that piece when you come to it in the museum.
Toddlers, of course, won't care about the background history of a van Gogh, but you can still certainly get them prepared to appreciate one. Before you go to a museum, research the style or subject matter of a certain artist featured in that museum. If the museum has a van Gogh, for instance, pull out some paint and let your kids practice making "swirls" like he did.
If the museum has a lot of nature paintings, take your child outside and help them draw or paint what they see. Then, when you are at the museum, remind them of their own artwork and ask them if they see the same things in the paintings they are viewing.
It can also be fun to look for a certain color, shape, or animal. "How many horses will we find in this museum?" or "Show me all the paintings in this room that have the color purple in them." Or talk about the mood of a person in a painting. "Is this person happy or sad? Angry or scared?"
A child in grade school will appreciate a little bit of background history. When I was in 4th grade, my teacher had us learn about Vincent van Gogh, Leonardo da Vinci, Pablo Picasso, and Claude Monet. We loved it. We spent time reading about each artist, writing poetry about each artist, and making paintings similar to what the artist himself made. We loved learning the "weird" facts, like the fact that van Gogh chopped off part of his ear and sent it to a woman in the mail.
Or the fact that Monet started to go blind at the end of his life so his paintings became more and more blurry.
Or the fact that da Vinci also made many inventions. So get online and learn a fact or two about the artist you are going to go see.
Teenagers will appreciate more of the cultural and social background of art. Educate yourself a little bit about the time period in which the art you are about to see was made. Then, when you are in front of a painting, ask your teenager what the artist may have been responding to when he/she made that painting. Was there a depression going on and that's why the people in the photograph look so sad?
Was the king incredibly powerful and that's why his portrait shows him dressed in such finery?
What symbols can you see in each painting? Involve them in a discussion but be prepared for resistance. When I would go to museums with my teenage brother, he would sulk and roll his eyes. Finally I started asking him to just find his favorite painting in the room. Sometimes he would just point at anything to get me off his back. But then, we would go look at that painting, and I would tell him something I knew about it or about the artist. Then he was interested in discussing it and asking questions. Even if I didn't know anything about that particular painting or artist, we would talk about the colors or the subjet matter. We would speculate on what we thought the artist was thinking.
Bottom line: Be prepared but don't be intimidated by art. It is always open to interpretation, so let your children interpret away! Take the time to visit Thrilled By the Thought.